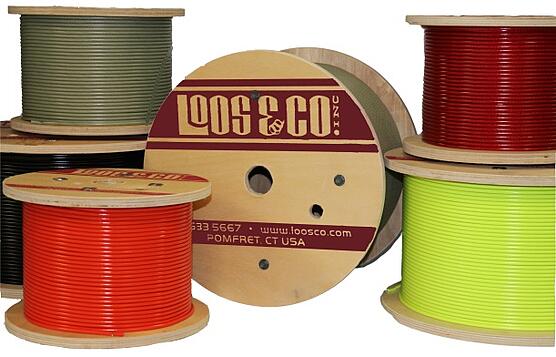 Welcome back to our "The Differences Between" series, where we compare the various types of products offered at Loos and Company. If you have yet to see the other blog posts focusing on LOLON® plastic-coated cables, check them out here. Today we are focusing on two plastic-coated cable products offered at Loos and Company, LOLON® L and LOLON® M. Continue reading below to find out the differences between these plastic-coated cable products.
LOLON® L:
LOLON® L is not known as a "super plastic" for nothing. LOLON® L has medium flexibility, broad environment resistance, excellent flex-life, great abrasion resistance, and good impact strength. Where the plastic stands out is its operating temperature range. LOLON® L can operate as low as -65 degrees F and as high as +300 degrees F. In intermittent periods, LOLON® L can even operate up to +400 degrees F. Other features of LOLON® L include being weather resistant, inert to chemicals and solvents, and resistant to absorbing water. While LOLON® L might be slightly heavier and more expensive than other plastics, it has a very long service life expectancy and will satisfy most critical applications. LOLON® L will meet numerous Military Specifications: MIL-W-81822/13 and MIL-W-22759/16/17/18/19.
LOLON® M:
LOLON® M is the second super-plastic we use for cable coatings at Loos and Company. Not only does LOLON® M have excellent abrasion resistance, but the plastic is also resistant to many chemicals and a wide range of solvents and oils. LOLON® M is tough to cut and has excellent flex-life. The operating temperature range of the plastic is between -60 degrees F and +300 degrees F. LOLON® M is also mildew and fungus resistant and has electrical properties that make the plastic good for low voltage applications. Even though this plastic is slightly more expensive than other LOLON® options, the cost is justified because of its extremely long service life in applications running over pulleys.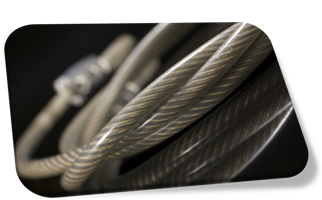 By choosing one of these two super-plastics, you are sure to be buying some of the best-coated cable products on the market. If you have yet to see our complete list of LOLON® plastics offered at Loos and Company, check out our brochure. Alternatively, if you have any questions, our team is happy to help! Reach out to us by email at sales@loosco.com or by phone at (860) 928-7981.