Welcome back to our "The Differences Between" Series, where we compare the various types of products offered at Loos and Company. If you have yet to see our blog posts on the other LOLON® plastics, check out our previous blog post here. Today, we are looking at the differences between LOLON® I, J, & K. Read below to find out more about each of these three Loos and Company LOLON® products.
LOLON® I:
LOLON® I is a plastic known for its ability to operate in a huge range of temperatures. The plastic operates at temperatures between -65 degrees F and +250 degrees F. LOLON® I has relatively high flexibility and good chemical resistance. One of the most common uses of this plastic is for cables that operate over pulleys in extreme cold or heat. The natural color for LOLON® I is transparent or clear.
LOLON® J:
Unlike the other LOLON® coatings, LOLON® J is gradually being phased out from the LOLON® series. Why? LOLON® J, except for a very few special applications, is near identical to LOLON® B. However, LOLON® B is more flexible, tougher, and less expensive. At Loos and Company, we still list LOLON® J because it is occasionally specified. LOLON® J will meet military specification MIL-M-22096, Type II.
LOLON® K:
LOLON® K is unique because it is very tough while still being considered "rubbery" and lightweight. LOLON® K material is good for traction and is low in cost. A key feature of LOLON® K is its excellent electrical properties. The plastic also has good flexibility, excellent weatherability, and aging resistance. The temperature range for LOLON® K is vast, operating from -60 degrees F to +300 degrees F. The natural color of the plastic is a slight off-white matte finish.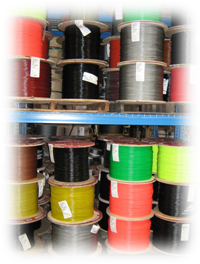 Now you know the main differences between these three plastics, your selection of plastic-coated cables should be much easier! If you want to learn about the full list of LOLON® plastics we use for coated cables at Loos and Company, view our brochure. Alternatively, if you have any questions, our team is happy to help! Reach out to us by email at sales@loosco.com or by phone at (860) 928-7981.