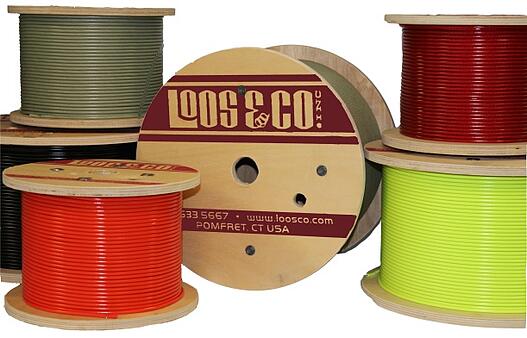 Welcome back to "The Differences Between" Series, where we compare the various types of products offered at Loos and Company. If you are yet to see our post in the series about LOLON® A, B, & E, you can find it here. Today we are going to be looking at LOLON® F, G, & H. Each of these plastic-coated cables has unique features and capabilities. Continue reading to find out more about these three LOLON® products.
LOLON® F:
LOLON® F is a plastic that suits a broad range of applications. Some of the main features of LOLON® F is its high flexibility and good chemical resistance. While the previous LOLON® plastics we've looked at have good operating temperature ranges, LOLON® F stands above the rest. LOLON® F can operate from -65 degrees F up to +230 degrees F. The range of temperatures for LOLON® F makes this plastic one of the most versatile options on the market. LOLON® F is transparent in color and will meet the Military Specification MIL-W-83420.
LOLON® G:
LOLON® G is an exceptionally tough plastic with excellent bearing characteristics, abrasion resistance, and chemical resistance. A unique feature of LOLON® G is despite its toughness; the plastic remains lightweight. LOLON® G is most popular due to its ability to withstand extremely high temperatures. The plastic operates between -20 degrees F to +250 degrees F and has heat light stabilizers built in to improve weatherability further. LOLON® G is naturally black in color and meets three Military Specifications: MIL-C-23812, MIL-W-216332, and MIL-C-2193.
LOLON® H:
LOLON® H is known across the plastic-coated cable industry for its toughness. It is a natural bearing material and, after being applied to a steel cable, provides a flexible bearing surface. LOLON® H is ideal for flexible pins such as those used in belting. The operating temperature range for LOLON® H is -40 degrees F to +250 degrees F with a heat stabilized formulation. The natural color of the plastic is milky-off-white. LOLON® H will meet Military Specification MIL-M-20693, Type 1.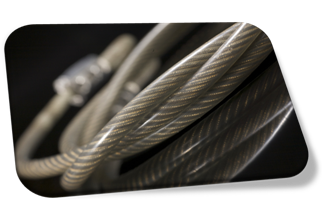 To learn more about our LOLON® F, G, & H plastic coatings for cable, visit our coated cable webpage here. Alternatively, Loos and Company offer numerous other plastic-coated cables that you can find in our brochure. If you have any questions, our team is happy to help! Reach out to us by email at sales@loosco.com or by phone at (860) 928-7981.